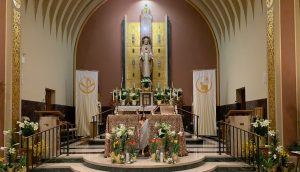 Join Us For Sunday Liturgy at 10:00 AM
Live  Stream Facebook
Sacred Heart or Father Bill's Facebook page.
Sacred Heart Roman Catholic Church     
 243 Lafayette Avenue Palmerton, PA 18071   610-826-2335
OUR MISSION STATEMENT
"We the family of Sacred Heart Roman Catholic Church, come together in faith to renew ourselves through the celebration of sacrament.  We strive to be the welcoming hands of Christ in our community."
JOIN FATHER BILL FOR LIVE STREAM MASS SACRED HEART OR FATHER'S FACEBOOK PAGE FOR SUNDAY MASS 10:00 AM.
Beginning June 1, 2020 a partial re-opening of our Parish will begin.
First Public Mass is scheduled for Sunday, June 7 at 9:30 AM for our parishioners. Restrictions will be in place. Please call the Rectory Office if you will attend, seating will be limited. See below for procedures/restrictions.
Note Change in Time:  Sunday Mass will continue to be live-streamed on Sacred Heart's Facebook Page beginning June 7 at 9:30 AM.
Mass attendance will be voluntary in the Yellow Phase. Those who do not feel safe or who have comprising health conditions should not attend.
The dispensation from the Mass obligation will remain in place throughout the Diocese until the Green Phase.
Procedures for Mass During Yellow Phase:
Less than 25% of total occupancy is permitted at any time in a space.  Signs will be posted to that effect. For our Church, total of approximately 80 people.
Mass attendance will be voluntary in the yellow phase. Those who do not feel safe, or who have compromising health conditions, should not attend. The dispensation from the Mass obligation will remain in place throughout the Diocese until the Green Phase.  Online livestream Masses will continue.
Sanitizer will be available at entrances and for Clergy distributing Holy Communion. Note: Only 2 entrances will be used: the door near St. Joseph's Altar from parking lot and the Ramp Glass Door off of Lafayette.
Pews will be marked off for 6′ social distancing requirement. Families are not expected to observe this among each other. Faithful must wear face masks during Mass, except for the Lector while proclaiming the Readings and the Cantor when leading song.
NO Offertory Procession. We will continue using the donation box in Church, online giving, mail-in or other means for receiving offerings.
NO Sign of Peace and NO reception of the Precious Blood.
Faithful may receive Holy Communion on the tongue or in the hand as always.  Communion will be distributed at the end of Mass.  Directions will be announced.
Gloves will not be worn at any time by clergy.  Faithful cannot wear them to receive Holy Communion.
Clergy will wear face masks during Mass only during distribution of Holy Communion.
NO Altar Servers and NO Extraordinary Ministers of Holy Communion at this time.
There will be increased sanitization of surfaces (including door handles, pews, railings), for which we have purchased a special cleaning solution. If individuals wiped spaces with their own home-brought sanitizer wipes, we would be most appreciative. If you would be available to volunteer to help sanitize after Mass, please call the Rectory.
Hymnal racks are emptied and their contents set aside until further notice. We will use printed programs when needed.
We have covered the Stewardship book kiosk and material should not be taken until further notice. Please do not leave any material of any subject anywhere in our Church.
Public may not light votive candles, but Father, Deacon or staff will light upon request.   Call the Rectory Office with your request.
The Crying Room is closed.
The Choir Loft is restricted to only the Musician and Cantor.
The Petition Book is unavailable until further notice.
CONFESSIONS:  By appointment only. Call the Rectory Office to schedule.
EMERGENCIES: Call the Rectory Office.
HOLY COMMUNION FOR HOMEBOUND: Only Father or the Deacon will give Holy Communion to homebound in emergency situations, upon request.
FIRST HOLY COMMUNION: Children who have been preparing for First Holy Communion and are properly prepared will be notified of 2 options:  Group Reception (date to be determined) or individual reception.
WEDDINGS AND FUNERALS:  Any wedding or church funeral that might fall within this phase must observe 25% seating capacity and follow all Yellow Phase and Church guidelines. No viewings will take place in Church.
BAPTISMS:  Baptisms will take place for individual families, observing 25% seating capacity, within or outside Mass as deemed appropriate and follow all Yellow Phase and Church guidelines..
First Communion, June 7 cancelled.
Join Bishop Schlert daily for Mass from his private Chapel live stream Monday-Saturday 8:00 AM, Sundays 10:00 AM.
Wednesday, May 27 Chrism Mass at 10:30 AM
Pray the Rosary with Bishop Schlert live online from his private Chapel at 6:30 PM Thursdays.  
Visit www.AD-Today for further information and options
available for you to participate in Masses on television and online.
Father Bill has been praying through the intercession of Fr. Ciszek (whose Cause is being processed in Rome for Canonization but  is in need of a verifiable miracle) since the beginning of the Coronavirus.  Would it not be a gift–a needed miracle to find a cure and stop the Coronavirus.  If you wish to add your prayer of intercession along with Father Campion, please say this prayer often and just maybe it will be the miracle we need.
PRAYER FOR A FAVOR THROUGH THE INTERCESSION OF FATHER WALTER CISZEK, S.J.
Almighty God, we love, adore and praise You as our Creator and Loving Father. Look with compassion and mercy upon us. Hear our prayer in this time of special need and through the intercession of Father Walter Ciszek, grant the following favor if it is Your Holy Will.  
(Mention the Request)  
Most loving God, accept our gratitude for hearing this prayer. May the knowledge of the virtues and holiness of Father Walter be recognized and known to provide a lasting example to draw sinners to reconciliation and to lead souls to sanctity. 
For You are our God and we are Your people and we glorify You, Father, Son and Holy Spirit, now and ever and forever.   Amen 
The Father Walter Ciszek Prayer League, Inc.
231 North Jardin Street 
Shenandoah, PA 17976  
Official Organization for the Promotion of the Cause of 
Canonization of FATHER WALTER CISZEK, S.J..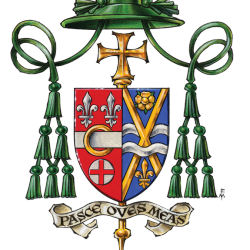 Important Messages from Bishop Schlert:
1.  Click here to read an important letter from Bishop Schlert  
2.  Click here to read Bishop's Schlert Statement  
For more information and resources please visit:    https://sp.allentowndiocese.org