Sacred Heart Roman Catholic Church     
 243 Lafayette Avenue Palmerton, PA 18071   610-826-2335
OUR MISSION STATEMENT
"We the family of Sacred Heart Roman Catholic Church, come together in faith to renew ourselves through the celebration of sacrament.  We strive to be the welcoming hands of Christ in our community."
Friday, June 11:  Patronal Feast Day Feast of the Sacred Heart
Morning Prayer within Mass at 9:00 AM followed by Exposition of the Blessed Sacrament throughout the day until 6:00 PM concluding with Solemn Evening Prayer.
Daily Mass Schedule:
Monday through Friday:  Noon
 Confessions by appointment only.  Please call the Rectory Office.
First Friday of the Month:  Mass at Noon followed by Eucharistic Adoration until 3:00 PM.  Concludes with Mid-Day Prayer and Benediction.
Visit www.AD-Today for Diocesan information and options available for you to participate in Masses on television and online.
JOIN FATHER BILL FOR SUNDAY MORNING MASS — LIVE STREAM ON SACRED HEART FACEBOOK PAGE AT 9:30 AM.
Weekend Mass:  Saturday Vigil:  5:00 PM  Sunday:  9:30 AM
Sunday Mass Obligation remains suspended.  Although is recommended for those who are physically well and confident and highly discouraged for those at risk.  May the Holy Spirit guide each person in deciding when to return to Sunday worship.
As we have seen at several points throughout this Pandemic, health guidance and directives can change rapidly.  The CDC announced that fully vaccinated people no longer need to wear a mask or keep social distancing in most settings.  Please know Sacred Heart Parish is doing its absolute best to welcome our parishioners back into a safe environment.
Liturgical Updates Effective immediately:
The fully vaccinated may attend Masses in the Diocese of Allentown and all gatherings on parish property without wearing a mask.
Liturgical Updates Effective Weekend of May 22-23:
"Fully vaccinated" is defined as being 2 weeks after receiving the final dose of the vaccine. People who do not meet those requirements are not considered fully vaccinated and must keep taking all precautions.   
Those uncomfortable with larger crowds may consider attending a daily Mass.
Seating restrictions are lifted.

Fait

hful may receive Holy Communion on the tongue or in the hand.   Receiving in the hand is the recommended way.
Clergy will wear face masks during distribution of Holy Communion.

Exchange of the Sign of Peace/Distribution of the Precious Blood and the

Offertory Procession

will remain suspended.

Altar servers may return following CDC guidelines and at the comfort of their parents.
Sanitizers must still be regularly used and are available throughout the Church.
3 entrances/exits are available to the Church.  All doors leading to the Parking lot and the Glass Door off of Lafayette Avenue.   The front doors will remain locked and unavailable at this time.
Hymnals are restored to the Pews.
Pamphlet racks and other devotional materials are restored to their former locations.
The Cry Room is open following all safety precautions.
Please do not leave any material of any subject anywhere in our Church.
The Petition Book is now available.
HOLY COMMUNION FOR HOMEBOUND:  Only Father or the Deacon will give Holy Communion to homebound in emergency situations, upon request.
WEDDINGS AND FUNERALS:  Any wedding or church funeral  must observe and follow CDC and Church guidelines at the time.
BAPTISMS:  Baptisms will take place for individual families, observing and following all CDC and Church guidelines at the time.
Father Bill has been praying through the intercession of Fr. Ciszek (whose Cause is being processed in Rome for Canonization but  is in need of a verifiable miracle) since the beginning of the Coronavirus.  Would it not be a gift–a needed miracle to find a cure and stop the Coronavirus.  If you wish to add your prayer of intercession along with Father Campion, please say this prayer often and just maybe it will be the miracle we need.
PRAYER FOR A FAVOR THROUGH THE INTERCESSION OF FATHER WALTER CISZEK, S.J.
Almighty God, we love, adore and praise You as our Creator and Loving Father. Look with compassion and mercy upon us. Hear our prayer in this time of special need and through the intercession of Father Walter Ciszek, grant the following favor if it is Your Holy Will.  
(Mention the Request)  
Most loving God, accept our gratitude for hearing this prayer. May the knowledge of the virtues and holiness of Father Walter be recognized and known to provide a lasting example to draw sinners to reconciliation and to lead souls to sanctity. 
For You are our God and we are Your people and we glorify You, Father, Son and Holy Spirit, now and ever and forever.   Amen 
The Father Walter Ciszek Prayer League, Inc.
231 North Jardin Street 
Shenandoah, PA 17976  
Official Organization for the Promotion of the Cause of 
Canonization of FATHER WALTER CISZEK, S.J..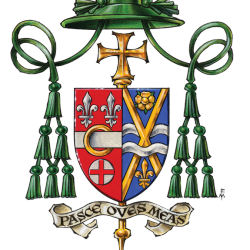 Important Messages from Bishop Schlert:
1.  Click here to read an important letter from Bishop Schlert  
2.  Click here to read Bishop's Schlert Statement  
For more information and resources please visit:    https://sp.allentowndiocese.org