Sacred Heart Roman Catholic Church     
 243 Lafayette Avenue Palmerton, PA 18071   610-826-2335
OUR MISSION STATEMENT
"We the family of Sacred Heart Roman Catholic Church, come together in faith to renew ourselves through the celebration of sacrament.  We strive to be the welcoming hands of Christ in our community."
Thanksgiving Day Mass:  
Thursday (11/25/21):  9:00 AM
Weekend Mass 
Saturday Vigil:  5:00 PM 
Sunday:  9:30 AM 
 Confession:  Saturday 4:15 – 4:45 PM
NO DAILY MASS WEEK OF 11/29/21
Wednesday, December 1
Holy Hour For Life:  1:00 PM
Benediction:  2:00 PM
FIRST FRIDAY, December 3 – HOLY HOUR
EUCHARISTIC ADORATION:  Noon BENEDICTION:  1:00 PM
 SUNDAY MORNING MASS — LIVE STREAM ON SACRED HEART FACEBOOK PAGE AT 9:30 AM. 
Bishop Schlert announces:  "As life returns to Normal, it is time to resume our normal lives as faithful Catholics."   Effective August 15 all Catholics in the Diocese of Allentown will once again be obligated to attend Mass on weekends and on holy days of obligation. 
Bishop Schlert has reinstated several safety precautions, due to the spread of the Coronavirus Delta Variant:
All priests, deacons and extraordinary ministers of Holy Communion will be wearing masks while distributing Holy Communion regardless of their vaccination status.
Ushers will be wearing masks when greeting parishioners and while taking up the collection regardless of their vaccination status. All ministers of Holy Communion will be required to use sanitizing stations.
The distribution of the Precious Blood and the exchange of the Sign of Peace remain suspended.  Please know Sacred Heart Parish is doing its absolute best to welcome our parishioners back into a safe environment.
Those who are fully vaccinated do not need to wear a face covering or a mask.  Those who are not fully vaccinated are strongly encouraged, but not mandated, to wear a face covering.   Please be respectful of someone's choice to wear a face covering or mask in Church.  If you are experiencing COVID-19 Symptoms.  Please stay home.
Hand Sanitizers will be available throughout the Church.  Common sense precautions should continue.
Thank you for your continued support during this time. The Diocese will continue to update us on matters of this nature as information is available.
Father Bill has been praying through the intercession of Fr. Ciszek (whose Cause is being processed in Rome for Canonization but  is in need of a verifiable miracle) since the beginning of the Coronavirus.  Would it not be a gift–a needed miracle to find a cure and stop the Coronavirus.  If you wish to add your prayer of intercession along with Father Campion, please say this prayer often and just maybe it will be the miracle we need.
PRAYER FOR A FAVOR THROUGH THE INTERCESSION OF FATHER WALTER CISZEK, S.J.
Almighty God, we love, adore and praise You as our Creator and Loving Father. Look with compassion and mercy upon us. Hear our prayer in this time of special need and through the intercession of Father Walter Ciszek, grant the following favor if it is Your Holy Will.  
(Mention the Request)  
Most loving God, accept our gratitude for hearing this prayer. May the knowledge of the virtues and holiness of Father Walter be recognized and known to provide a lasting example to draw sinners to reconciliation and to lead souls to sanctity. 
For You are our God and we are Your people and we glorify You, Father, Son and Holy Spirit, now and ever and forever.   Amen 
The Father Walter Ciszek Prayer League, Inc.
231 North Jardin Street 
Shenandoah, PA 17976  
Official Organization for the Promotion of the Cause of 
Canonization of FATHER WALTER CISZEK, S.J..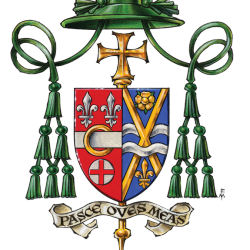 Important Messages from Bishop Schlert:
1.  Click here to read an important letter from Bishop Schlert  
2.  Click here to read Bishop's Schlert Statement  
For more information and resources please visit:    https://sp.allentowndiocese.org